Patio Furniture Set Made with Wooden Pallets
In some of our earlier wood pallet projects we have kept emphasizing on the pallet wood cretions and recycling. Like it has got so many reasons that compel us to urge you guys for this activity. Well, some of those reasons could be social and humanitarian as well. Humanitarian in the sense that when we talk about the recycling of the shipping pallets, then we are actually discouraging the cutting of further trees which play a vital role in human lives. So I guess this is a very positive sort of activity that must be promoted and supported.
Okay, now coming towards the project of the day let me make it pretty clear that the furniture items that we are intending to make today would solely be made out of the shipping pallets. No reclaimed or other stuff would be needed so this is a complement for the crafters.

Now according to the plan as we said earlier, this is not going to be a mere single wooden furniture item, but this is whole comprehensive and detailed furniture set. Where we have got a proper wooden pallet repurposed table that is quite matching with the rest of the furniture items.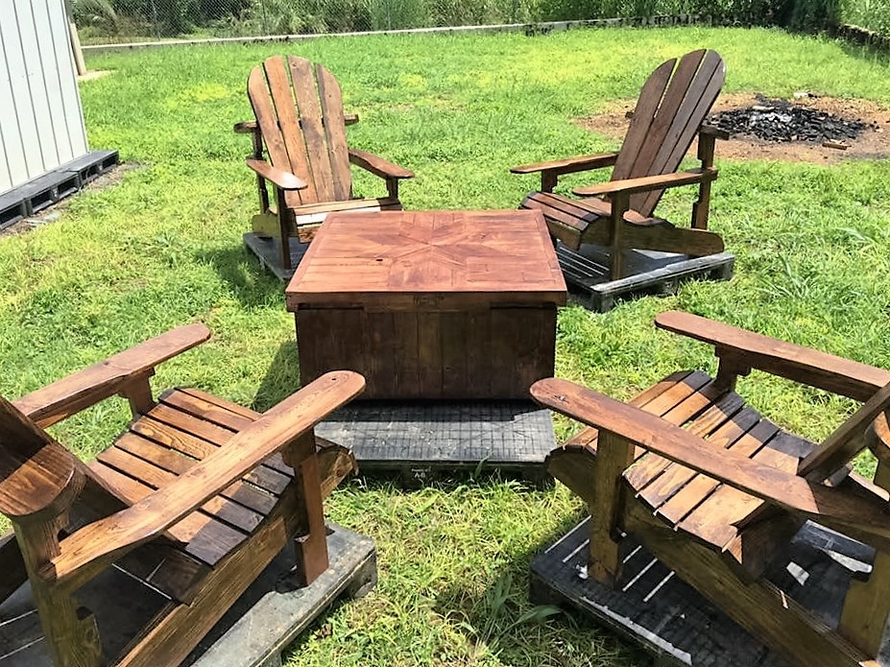 And other than that we have got here four Adirondack shaped pallet wood chairs. They have got a perfect shape which would ensure a very comfortable posture to the users. So this is going to be a complete luxury inside the green landscape of yours.

One more thing that is pretty prominent in this project is the quality of the shipping pallets. Like the pallets used here are quite aged but despite of all that, they are finished in such an incredible manner that they look like perfect art crafts. So be gutsy enough to initiate such a nice furniture set project.

Purchase Inquiry / Created & Shared by: Guam's Pallet Gal & Guy