Pallet Coffee Table with Architectural Steel Legs
There are many types of tables which you can make using the recycled wood pallets, the table can be placed in the lawn or any room of the home. Without a table, a room looks incomplete and it is a good idea to create a table at home as it saves money and it gives a chance to the individual to create something unique according to his imagination. The idea of a coffee table made with the reclaimed wood pallets is amazing with the steel legs; the legs can also be of wood.
You can see the idea with the storage option, it can be placed in the lawn and it can be used for the kid's room as well if they need a table to complete their homework. The pallets are not painted because they look perfect for the table as they are.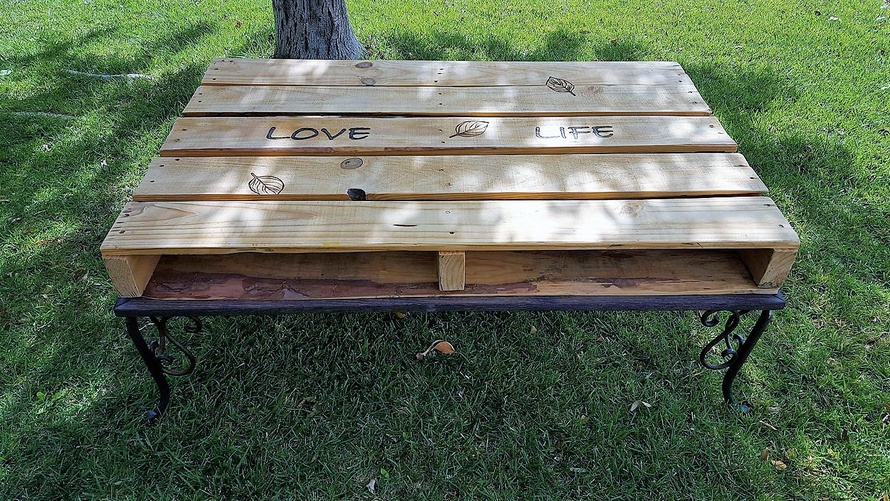 This is a big-sized table, but a person has the option of changing the size according to the requirement. The saw is required to cut the pallets in the size a person wants and the hammer with the nail serves as attaching the repurposed wood pallets with each other.
Paint is utilized for writing and making the leaves, a person can write or make anything using the paint. The architectural steel legs can be easily purchased from the market, and there are many options from which a person can choose. It is not a difficult task to pin the pallets with each other, not much is consumed in making the tables. Arranging the upcycled wood pallets along with the tools is required to turn the pallets into amazing and inspiring things like the furniture and the other decorative items. Everyone can create a table at home and any paint color can be used for painting it.
Created & Shared by: Scott M Hawley