Pallet Projects – Unique, Creative and Cheap
A house renovation is incomplete without having the proper arrangement of the wooden furniture items. But what type of furniture will suit to your lounge area, which is the best design for your bedroom? and what kind of kitchen island did you requires to meet your needs? Well, here we are bringing to you a great solution for all of these. And that is the pallet projects. Yes pallet projects are unique and creative to make a part of your house area. They are cheap and easily affordable for everyone. Reclaimed wood pallet boards are easily available in markets and a durable material but it is quite easy to modify them in your desire shape and project. So choose out these fascinating ideas and make your house beautiful with these ideas right now!
This fabulous recycled pallets wooden bed and headboard art are designed with the great use of recycled pallet boards in it. These drawers are crafted for an easy location of useful accessories close to you. This beautiful wooden bed is comfortable and modern in appearance to make your bedroom look attractive.
Here we have the artistic idea of the reclaimed wood pallet wardrobe. It is beautifully styled out in shelving and drawers division. This pallet craft is showing the ideal use of old shipping pallet wood in its construction. This appealing pallet wardrobe plan seems best to locate your clothing items.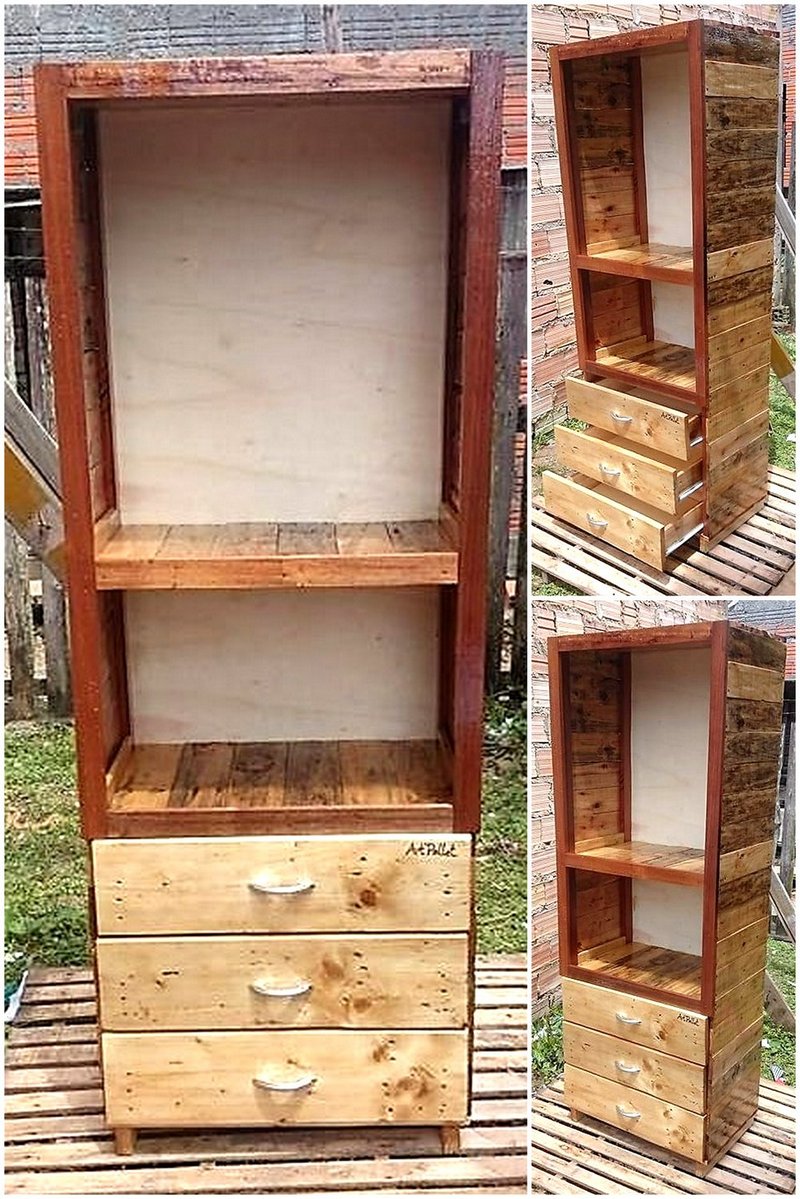 The beautifully designed wooden pallet chest of drawers is the part of the image shown below. This attractive pallet craft is all constructed for the ease of every house maker. It will smartly make you allow to locate your favorite, essential products at the safe and clean place.
There are countless designs for the pallet wooden tables are trending on the internet, but there is something really special in this design. It is all created with a unique storage capacity in it. The delicate arrangement of the properly cut pallet planks is giving this table a fresh look.
In modern house decoration ideas, pallet wood wall cladding has made their place very well. This wall cladding plan looks fabulous in changing the view of the room by decorating it in a different manner. The fantastic use of old and wasted pallets in this craft makes it the most economical one.
Let's decorate your house walls with the charming effects of the recycled wood pallet stacks in it. This DIY wood pallet wall art is crafted to make you familiar with the unique and innovative creation of the pallet wood. The lovely setting of the pallets on the walls makes the plan looks eye-catching.
Now make the ideal use of your time, crafting skills, and of course, the reused wood pallet planks present in your home for the adornment of your garden area. This pallet outdoor deck and furniture is showing the simple patterns designing on both craft, but both seem lovely in the picture shown below.
Are you planning to went for a picnic and you are searching for the fascinating design of cooler that will keep your drink bottles cool for you? This wooden pallet rustic cooler is all crafted for you. This pallet craft is wonderfully beautified with the smart set of the old pallet boards in it. It is also light in weight, that makes it an easy to carry plan.
Beautify the walls of your garden area with the outstanding look of this planter out of wooden pallets. It is crafted with different small boxes. This captivating planter out of wooden pallets is adorn in two looks. Now you can locate your plants and flowers easily in it without looking for any expensive planter idea.
Here the breath-taking design for the dining table made with pallets wood is shown in the image. The delicate arrangement of the pallet wood is giving this dining table an effective appearance. The size of the dining table is kept large for the happy dinner time of the entire family.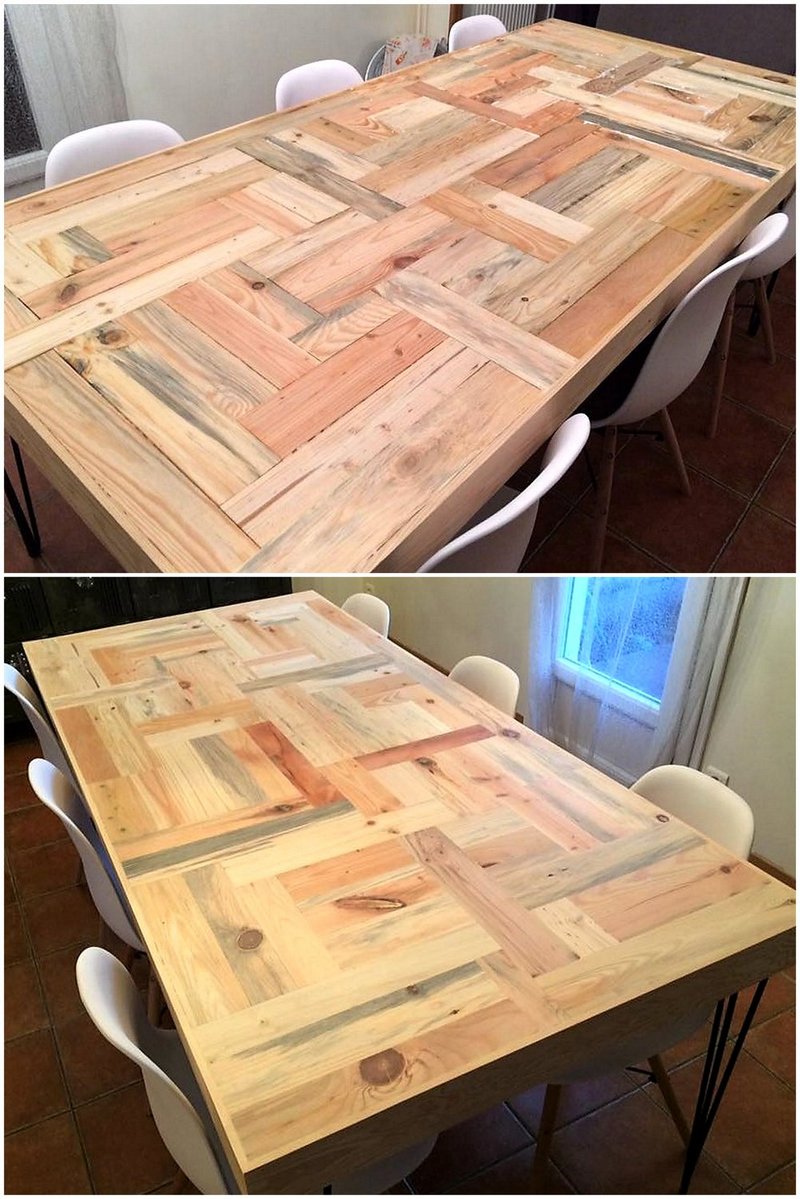 Look at the delightful use of reclaimed wood pallet stacking in the much effective house refurbishing idea. This pallet wall shelf and hanging table is simple and the quickest pallet idea. The charming wall shelf plan is wonderfully painted in sky-blue that makes it to appear heart-winning at the first sight.
Collect the wasted pallet stacking of your house and craft out this elegant pallet bench. It is beautifully designed to fulfill the heartiest desires of wooden furniture at home. Just start your work on this pallet craft and change the boring outlook of your dreamland, with the charming effects of the pallet wood.
It's time to adorn your garden area with a multi-functional pallet craft. This pallet bench with attached planter is also crafted for the happiness of our honourable site visitors. This pallet bench with attached planter is a fabulous pallet craft that is so easy to design at home solely.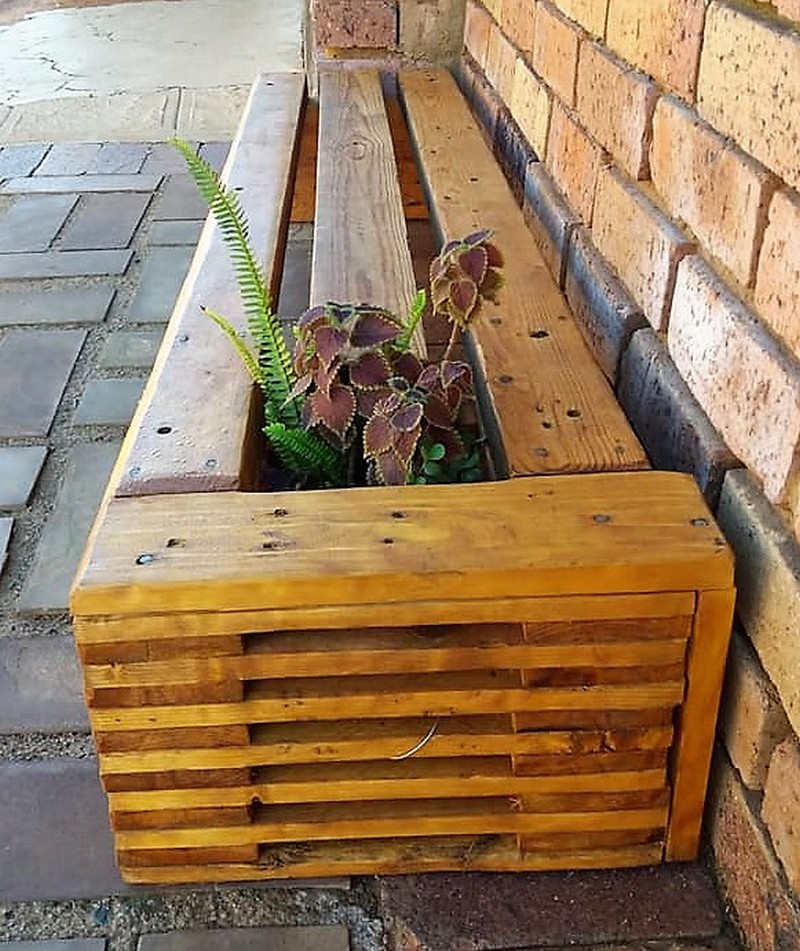 Another beauteous design for the wooden pallet planter is shown here for you. This box-like planter seems ready to give a well-formed look to your house, no matters you are looking to locate it indoor house area or in the outdoor. The organic wooden texture of this project appears eye-catching.

Boost the attraction power and add the great feature of freshness to your garden area with the fabulous designing of this recycled pallet planter. It is very well adorned with yellow paint shade. This alluring pallet work will attractively make you allow to grow your plants close to you.
Wooden furniture items have become an essential need of every house. But affording the expensive wooden sofa is not easy for every person. This repurposed pallets corner sofa is simply economical and with the admirable presentation, beautified for your house indoor use.
If your apartment have a small balcony area and you are looking to decorate it, simply opt. this artistic design of the pallet balcony idea. It is also constructed with the old shipping pallet stack. This pallet craft is smartly constructed for comfortable seating and also for the adornment of your house.
Craft an exceptional pallet craft for your house with the work of few hours and give it a royal appearance. This wood pallet corner couch is all crafted with the unique combining of the pallet wood in horizontal pattern. The advancement in this project is made with the stylish paint shade use.