Upcycled Dreams The Beauty Of Wooden Pallet Beds
Wooden pallet beds exude a unique and captivating beauty that transcends conventional bed designs. Crafted from reclaimed or upcycled pallets, they not only provide a sustainable and eco-friendly bedding solution but also showcase the raw, rustic charm of weathered wood. The individuality of each pallet, with its distinct knots, grains, and imperfections, adds a character that cannot be replicated by mass-produced furniture. These beds offer a harmonious blend of form and function, bringing an earthy warmth and a touch of industrial flair to any bedroom. With their versatility in design, affordable cost, and the satisfaction of contributing to a more sustainable world, wooden pallet beds stand as a testament to the beauty of repurposing materials and embracing a rustic, yet modern aesthetic in your sleeping space.
The history of wooden pallet beds can be traced back to the early 20th century when pallets were first introduced as a means of transporting goods and materials more efficiently. Originally, pallets were constructed from various materials, including wood, metal, and plastic, but wooden pallets quickly gained popularity due to their durability and affordability. As the demand for wooden pallets grew, so did the surplus of unused or discarded pallets. It was this surplus that laid the foundation for the creative use of pallets in furniture design. The concept of repurposing pallets into beds and other pieces of furniture gained traction in the late 20th century, particularly in the DIY community. People began to recognize the potential of these humble wooden structures to be transformed into functional and stylish pieces of furniture. The appeal of wooden pallet beds lies in their rustic charm, affordability, and sustainability, which align with the growing trend of eco-conscious living.
One of the most significant benefits of wooden pallet beds is their eco-friendly nature. These beds are often crafted from recycled pallets, diverting them from landfills and reducing the demand for newly harvested wood. This repurposing of materials contributes to the conservation of forests and the reduction of carbon emissions associated with logging and processing fresh timber. Moreover, wooden pallet beds typically require less energy and resources to manufacture compared to conventional bed frames, making them a greener choice for environmentally conscious consumers. Wooden pallet beds also offer a sense of uniqueness and character to any bedroom. Each pallet is distinct, bearing the marks and wear from its previous life as a shipping or storage container. This weathered appearance adds a rustic and industrial charm to the bed, providing an aesthetic that is difficult to replicate with mass-produced furniture. The versatility of wooden pallets allows for various design possibilities, ranging from minimalist and modern to shabby chic and bohemian, ensuring that there is a style to suit every taste and interior decor.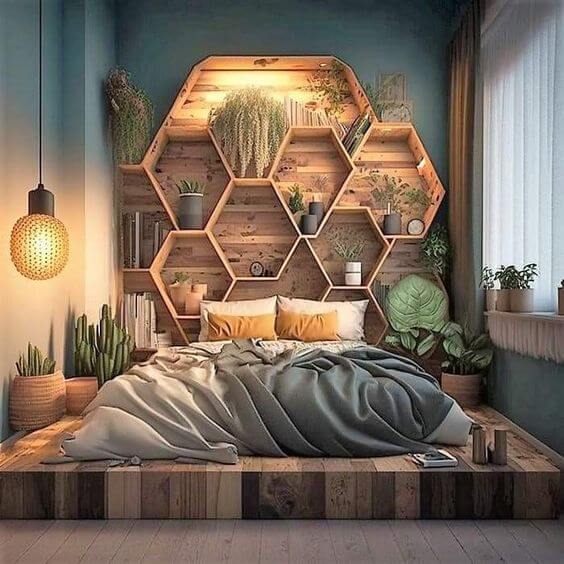 One of the most appealing aspects of wooden pallet beds is their affordability. Traditional bed frames can be expensive, especially when crafted from high-quality materials. In contrast, wooden pallets are readily available and can often be acquired for free or at a minimal cost. This cost-effectiveness is a significant advantage for individuals on a budget or those who appreciate the value of repurposing materials to create something functional and beautiful. In addition to their affordability, wooden pallet beds are relatively easy to assemble, making them an attractive option for DIY enthusiasts. With some basic tools, a few screws, and a little creativity, you can transform a stack of pallets into a sturdy and unique bed frame. DIY projects involving wooden pallets can be a rewarding experience, allowing individuals to express their creativity and craftsmanship while also saving money. There are numerous online resources and tutorials available to guide those interested in building their pallet bed.
Furthermore, wooden pallet beds can be customized to suit individual preferences and room dimensions. The modular nature of pallets allows for flexibility in design, making it possible to create beds of various sizes, from twin and full to queen and king. Additional features, such as built-in storage compartments or headboard designs, can be easily incorporated into the bed's structure. This adaptability enables users to tailor their wooden pallet bed to match their specific needs and style preferences. Apart from their economic and aesthetic advantages, wooden pallet beds also promote sustainability by reducing the carbon footprint associated with furniture production. Traditional bed frames, especially those made from solid wood, often require the cutting down of mature trees, which can have detrimental environmental effects. In contrast, wooden pallets are typically made from less valuable or discarded wood, which lessens the pressure on forests and minimizes the environmental impact of furniture manufacturing.
Wooden pallet beds also reflect a growing shift in consumer consciousness towards sustainable and responsible living. In a world facing environmental challenges, many individuals are increasingly seeking eco-friendly alternatives in various aspects of their lives, including home furnishings. Choosing a wooden pallet bed is a small yet significant step towards minimizing one's ecological footprint. This conscious decision aligns with broader efforts to reduce waste and conserve resources. Additionally, the versatility of wooden pallet beds extends to their compatibility with various mattress types, including memory foam, innerspring, and latex. The flat, sturdy surface provided by the pallets offers excellent support for mattresses of different thicknesses and materials. This adaptability ensures that users can enjoy a comfortable and restful night's sleep on their pallet bed without compromising on mattress options.
While wooden pallet beds offer numerous advantages, it's important to consider a few potential drawbacks. First, the quality of the pallets used can vary significantly. Pallets that have been exposed to the elements or have been used for an extended period may exhibit wear and damage, potentially compromising the bed's structural integrity. It's crucial to carefully inspect and choose the pallets used in the construction of the bed to ensure they are in good condition. Additionally, the DIY aspect of building a wooden pallet bed may not be suitable for everyone. Not everyone has the time, tools, or skills required for such a project. For those who are not inclined towards DIY, there are businesses that specialize in crafting custom wooden pallet beds, providing a convenient and professionally finished alternative to the DIY approach.
Maintenance is another aspect to consider. Wooden pallets are more porous than finished wood, which can make them susceptible to absorbing moisture and dirt. This may necessitate regular cleaning and maintenance to ensure the bed remains in good condition. Sealing or staining the pallets can help protect them from moisture and make maintenance more manageable. Comfort is another factor to keep in mind when considering a wooden pallet bed. While the flat surface of pallets is suitable for supporting a mattress, it may not offer the same level of cushioning and support as a traditional box spring or slatted bed frame. Therefore, investing in a high-quality mattress is essential to ensure a comfortable sleeping experience on a wooden pallet bed.
In conclusion, wooden pallet beds have become a popular and sustainable choice for individuals looking to furnish their bedrooms with style, affordability, and an eco-conscious mindset. Their history as shipping and storage containers has evolved into a creative and environmentally friendly solution for furniture design. Wooden pallet beds offer a unique and rustic aesthetic, cost-effectiveness, and the opportunity for DIY customization. Additionally, they promote sustainability by repurposing materials, reducing waste, and lessening the demand for newly harvested wood.
While wooden pallet beds come with certain considerations, such as pallet quality and maintenance, they remain a viable option for those who value sustainability and a touch of individuality in their living spaces. As the world continues to move toward more eco-friendly and responsible living, wooden pallet beds exemplify how simple choices in home furnishings can contribute to a greener and more sustainable future. By embracing the charm and practicality of wooden pallet beds, consumers not only elevate the aesthetics of their bedrooms but also play a part in the global effort to reduce waste and conserve resources, one pallet at a time.