Magnificent DIY Pallet Wood Reusing Ideas
Are you a good wood crafter? and also looking to design some new wooden products for the adornment of your house? then for what you are waiting for? then, most awaited, magnificent pallet wood ideas are smartly gathered here in this collection. These fabulous pallet wood reusing ideas will prettify your house area with their charming effects and deliver you best in meeting the needs of house furniture. You can effortlessly design a pallet wood kitchen plan, a thought-provoking outdoor furniture, pallet wall paneling, and much more than it. Use these simple DIY pallet ideas that are unique in term of appearance but easily affordable for everyone. We have all created these fascinating plans with the old shipping pallet wood that makes these designs economical for you.
A properly designed kitchen makes the house area looks well-arranged and useful. Managing the kitchen area in an organized way, it is essential to have an elegant kitchen plan in it. This awesome pallet wooden kitchen plan is smartly designed with cabinets and drawers in it to meet your all needs with the recycled pallet wood.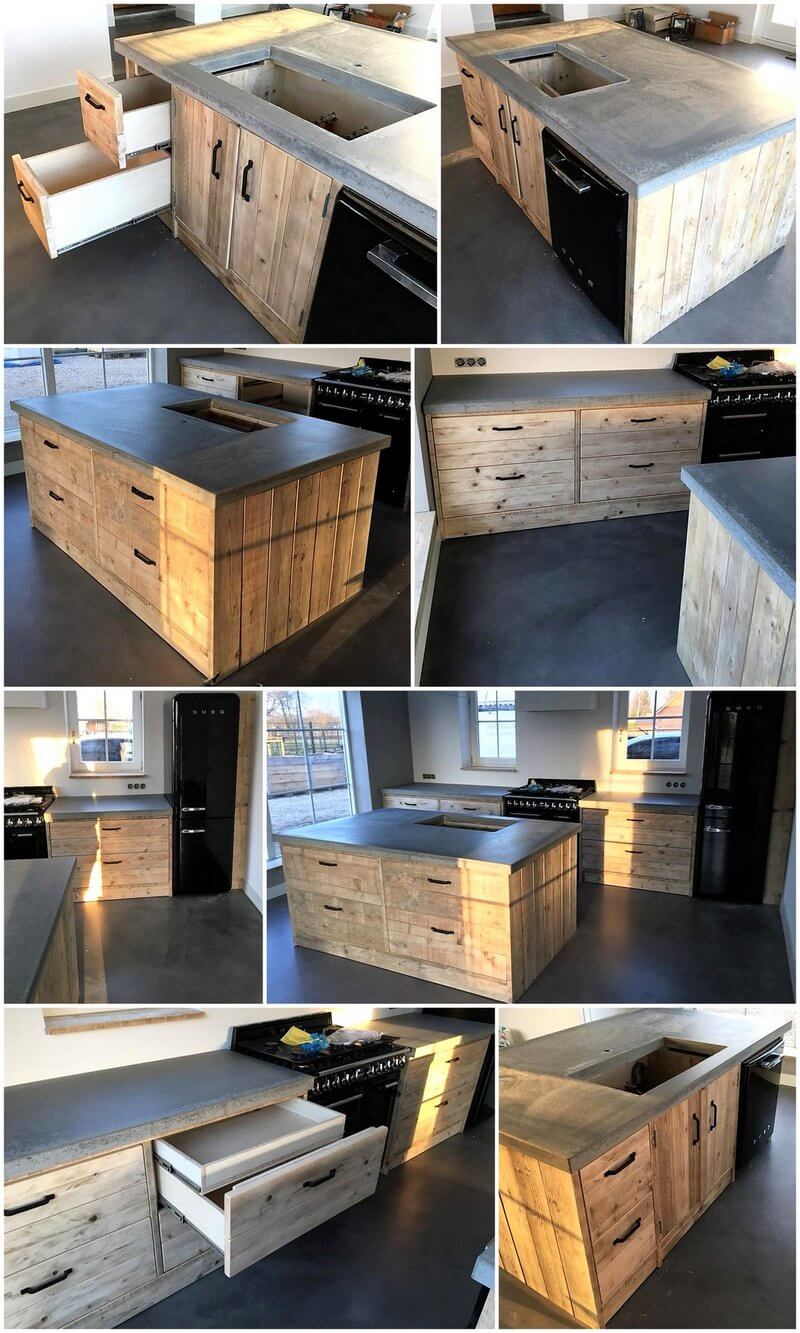 The elegant construction of the wooden table, especially the coffee table, boost the enjoyment of relaxing time. This thought-provoking coffee table is styled out with the delightful adjustment of the old shipping pallet wood stacks in it. This coffee table is crafted with a large wooded area on top and the unique space under it.
With the advancement in pallet ideas and there demand is also increased. And people loves to fulfill all there requirements with the durable pallet material. This alluring bar craft is also designed with the smart use of resused wood pallet stacking in it as shown here in the image below.
Are looking for a multi-functional plan that will meet your two in one needs with one pallet plan? then this pallet tv stand with plenty of drawers is all suitable for you. This project is crafted to meet your tv stand needs while allowing you to locate you essential items safely in these drawers created with the reclaimed wood pallet boards.
If you make a little research on the high rates of dog houses in the market, you will get a big shock. Due to high rates it's become difficult to afford a ready-made dog plan. That's why we are here to serve you with an exceptional wood pallet dog house that is artistically crafted with the inexpensive material of pallet wood.
Are you get bored with the simple and ordinary appearance of your rooms and looking for an ideal project? but also desires to have something useful as well? then look at the picture, that is showing the delicate designing of a pallet closet. This angelic closet seems ready to store your lots of items and clothes in it.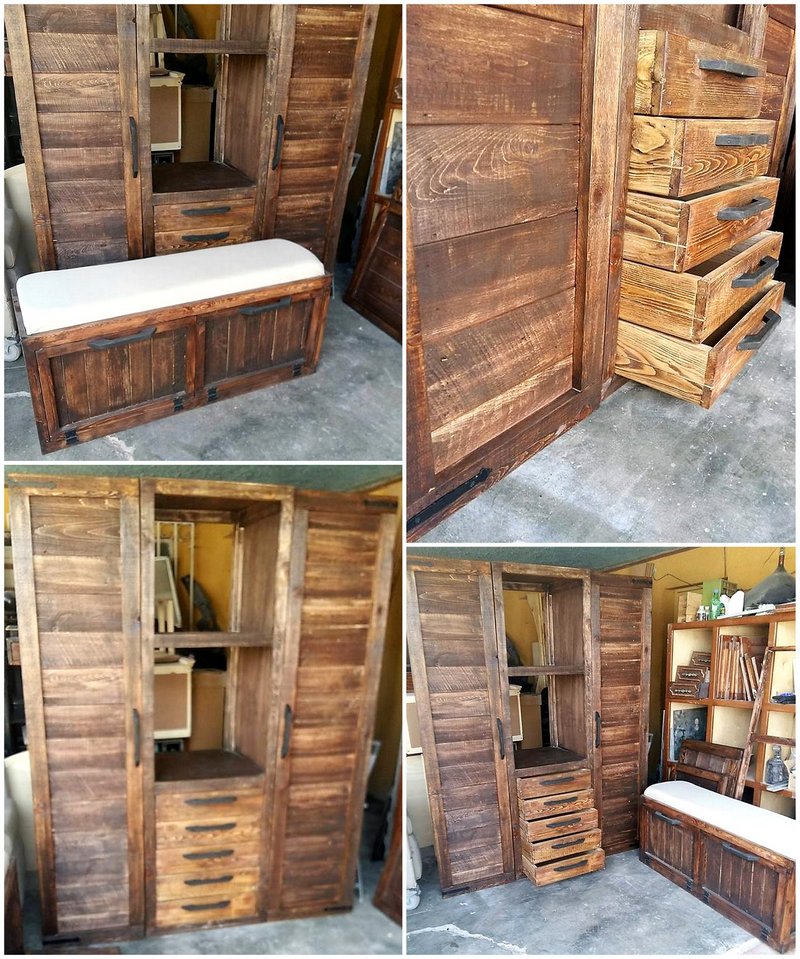 Let's start work together on this exceptional pallet craft that is all adorned with the reclaimed wood pallet used in it. This great pallet plan is comprised of a large wooded area on top and the creation of four wooden drawers in it. This table is sublime-enough to locate in the lounge of your beloved house.
Give a complete look to your house refurbishing with the outstanding arrangement of this entryway table out of pallets. This stylish pallet craft is crafted with the drawers designing in it. This pallet project is wonderful to meet your storage and decoration needs with it.
Now enjoy the freedom of transforming the old shipping pallet wood of your house, in the designing of countless unique ideas such as the one given in the image. This pallet entryway shelving stand is produced with the smart combining of the pallet slats in various variations.
A captivating design for the bed headboard is attractively introduced here in the image below. This impressive pallet bed headboard is simply a DIY project that you can easily design with the proper working of few hours. The most admirable thing about the construction of this structure is tht, it ithe s style out with the recycled pallets.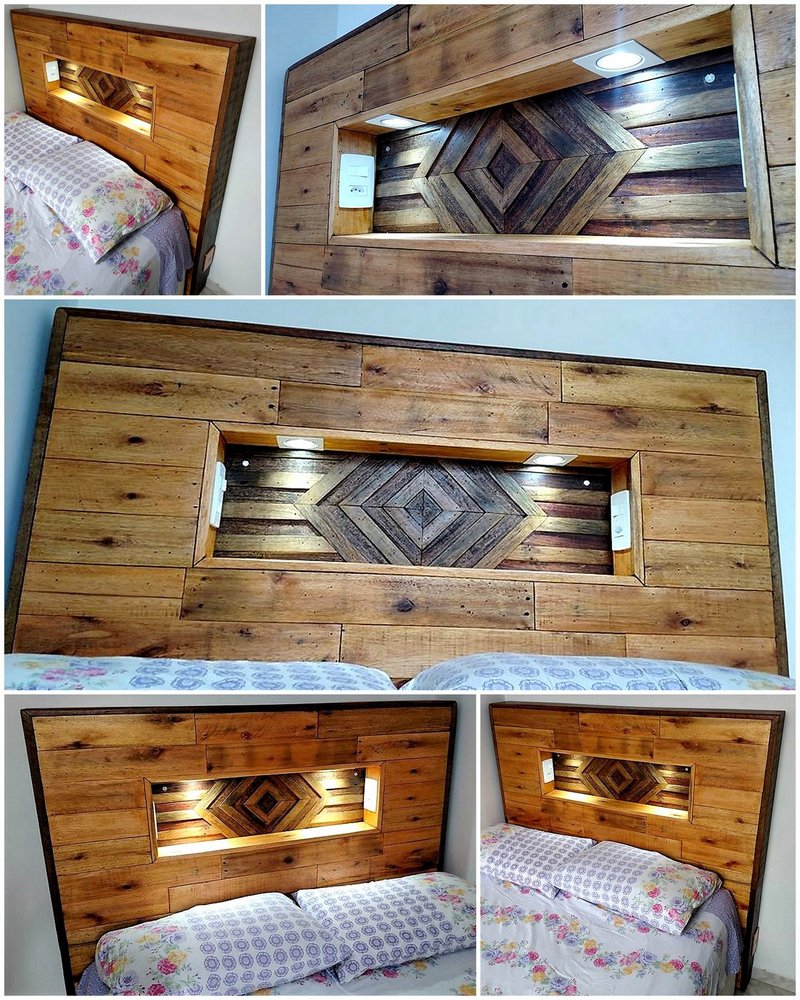 It's time to make the outdoor of your house looks luxurious and comfortable to relax on. With the divine beauty of theses outdoor pallets wooden furniture. The inspirational appearance of this outdoor pallet craft will raise the attraction of the place while keeping your large amount of money save for you.
Make the best use of old and wasted pallet planks of your house, in the creation of this elegant piece of art. This beautiful baby bed is smartly styled out with the delightful arrangement of the pallet wood in it. The idea looks impressive and a great way to welcome your beloved one in this world.
Express your feelings and care to someone really special in life with this exceptional recycled wood pallet planter art. The designing is outstanding to decorate the house with beauty. This pallet craft looks good to present someone as a gift. Select out this amazing pallet plan for your dreamland right now.
There are countless latest pallet wood ideas are trending on the internet and in all of them, the ideal one is shown here in the image below. This reused wood pallet cooler project is all adorned with the fabulous settlement of the pallet boards. The project will be long-lasting to serve your house.
Want to change the environment of the bedroom with a new bed as the old one is not impressive? then, just stop for a minute and look at the lovely pallet craft shown here for you. This outstanding pallet wood bed headboard is best one for in term of elegance and also in rates.
The brilliant use of old shipping pallet wood in the designing of new pallet crafts is made a part of the image. This delightful pallet kitchen table is showing the elegance of the designer. The appealing settlement of the pallet stacks is adding love to this economical pallet work.
Choosing an ideal design of pergola for the outdoor ornamentation is the heartiest desire of everyone. But the plan looks expensive. But stop wondering now, as the wonderful, long-lasting pallet wood material seems ready to meet your needs economically. This pallet pergola deck with planters looks so beautiful.
What a great design for the pallet outdoor benches is shown here for you. This inspirational designing of the recycled wood pallet is making this project best one for outdoor sitting, gathering and relaxing. You can smartly use this idea for the elegant transformation of your garden areas.