DIY Wood Pallet Cat House
If anyone has a pet cat, but don't have enough money to buy a cat house for him/her; then it is not a big issue because anyone can make it at home by arranging the wood pallets. For the preparation of DIY wood pallet cat house, you need the saw for cutting the pallets according to the size required. Don't miss any tool needed for the creation of a cat house which includes nails, hammer, drill and sander etc. Missing a single tool can irritate a person in completing a cat house made with recycled pallets.
First of all, cut the pallets using a saw and use the drill to make the holes to attach the pallets with the help of screws. Prepare the outermost structure of the wooden pallets cat house and attach the stairs with it.
After making the boundary of the cat house and the hut shape roof using the pallets, start filling the roof with the recycled pallets. You can make a single floor, but the double floor like the presented cat house is better because it not only looks nice; but gives a place to the cat to sit other than sitting inside his/her house.
Cut the pallets in less width than the recycled pallets for the house roof and use them to make the door of the house, you can pin the nails with the help of a hammer as the pallets are less in width; so they can be easily pinned.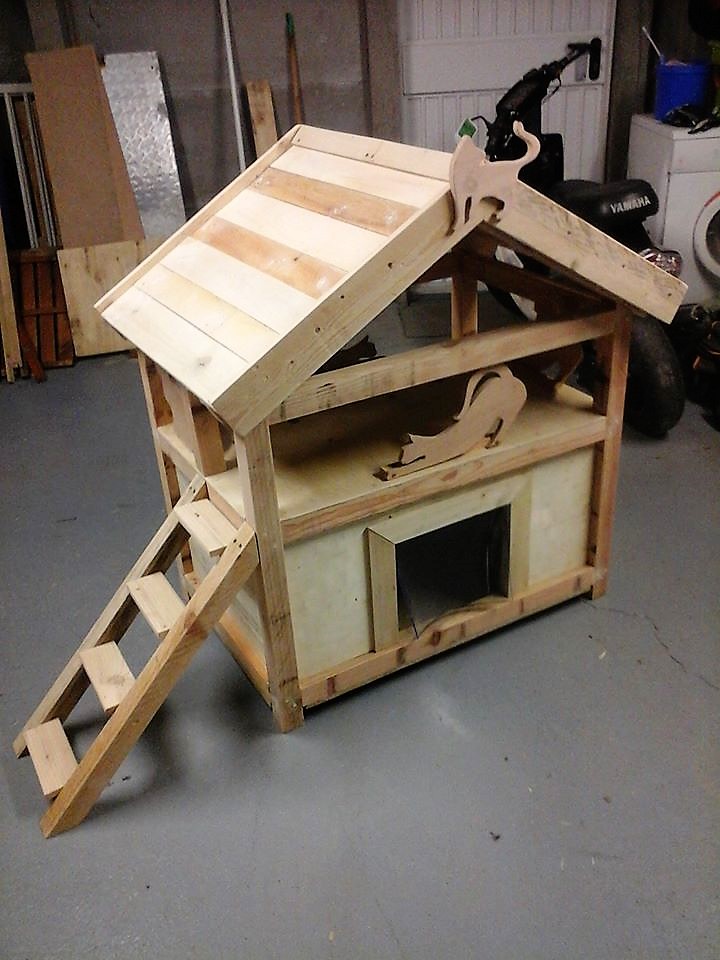 Cover the remaining area of the cat house with the pallets and you can decorate the house by adding the cats made from pallets cutting and smoothing the edges with a sander. You can see the cat house presented which is perfectly created for the four-legged friend.
Created & Shared by: David Artois